By Lisa Scottoline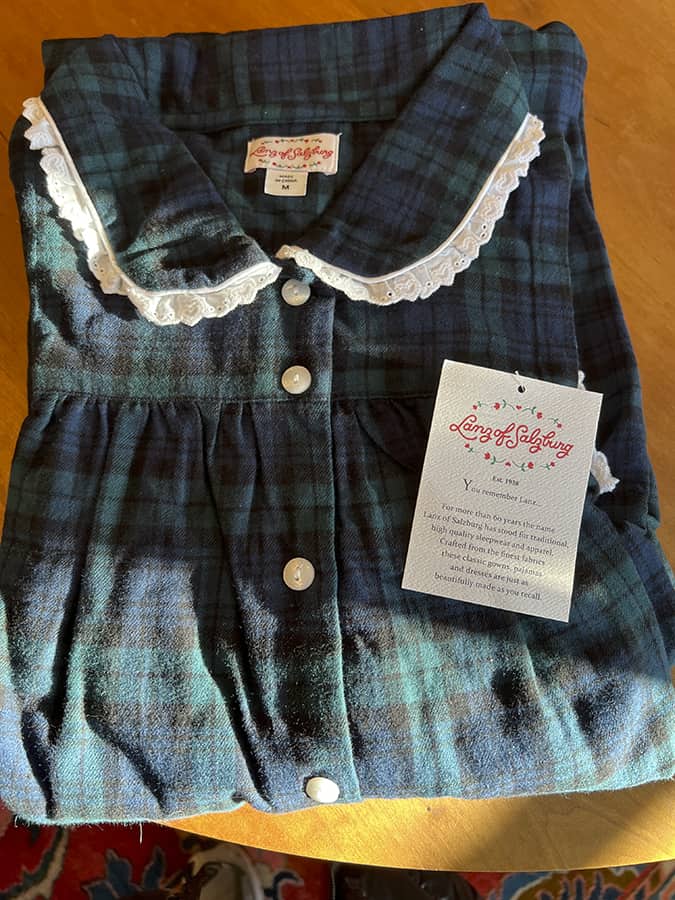 I love the simple things.
Like a flannel nightgown.
I can't even tell you how much I love my new nightgown.
I can't even wait to go to bed at night so I can put it on.
Who gets excited about a nightgown?
ME.
I DO.
I think part of this good feeling goes back to childhood, but it wasn't an especially happy memory. Maybe you have one or two memories like this, where you were the odd-man-out.
Or the odd-kid-out.
Imagine a sleepover party in middle-school, and all the other girls have the same type of nightgown. It's a long flannel nightgown with a pretty white ruffled collar, like a dress. And the patterns are really cute, either tiny red, green, and blue flowers or bright red tartan.
Like, these are classy nightgowns.
But at the sleepover party, you're the only one who doesn't have that nightgown.
You have a T-shirt.
Uh-oh.
But this isn't a sob story, because nobody made fun of me or bullied me.
I did that all by myself.
The thing about a chip-on-your-shoulder is that you put it there.
That's the bad news.
The good news is that you can figure it out and take the chip off.
It only took me decades.
I grew up in a nice neighborhood, and all of my friends were wonderful, but I was vaguely aware that they had bigger houses and more money than my family. My mother was the only mother who worked, as a secretary in an insurance company. My friends had beautiful clothes from Villager and purses from Etienne Aigner, neither of which I had.
Again, my friends didn't notice.
My chip did.
Anyway back to the nightgowns.
I remember asking one of my friends at the sleepover what kind of nightgown she had on, and she showed me the label, which read, Lanz of Salzburg.
Wow!
I never heard of Lanz, but I knew vaguely that Salzburg was somewhere in Europe, so that was automatically classy. And the next day, I told Mother Mary that I wanted a nightgown from Salzburg, and she told me that I was crazy and nightgowns bunched around your legs anyway.
So I kept sleeping in T-shirts.
Fast forward to last week, when the weather turned cold and I started wishing I had a nice warm nightgown. For some reason I thought of Lanz of Salzburg, so I looked online and found all of the nightgowns, exactly like I remember.
I bought two.
Now I have fancy nightgowns like the other kids, even though nobody cares anymore, not even me.
By the way, they're made in China, not Salzburg.
And the tag that comes with it says, "Crafted from the finest fabrics, these classic gowns, pajamas, and dresses are just as beautifully made as you recall."
OMG!
Were they at the same sleepover party?
Or did they just have a chip on their shoulder?
Anyway, there's nothing like a flannel nightgown, no matter where it comes from.
It's a soft, simple pleasure that bunches around your legs, but it's so toasty and cottony you don't mind because you're all cozy.
And maybe it reminds me of the warmth of my girlfriends, all of whom loved me more than I loved myself.
Until now.
Copyright Lisa Scottoline 2022