By Lisa Scottoline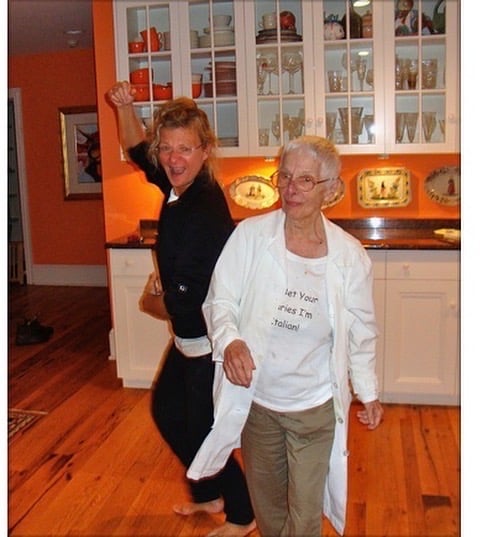 You may have read the article in Time magazine, entitled "The Five Things Your Kids Will Remember About You."  It was predictably sweetness and light, but none of it reminded me of Mother Mary, who was anything but sweetness and light. She's been gone almost two years now, and she was more olive oil and vinegar.
In fact, I considered the five things that Time set forth and compared them to Mother Mary, to see how she measured up, magazine-wise.
You can play along, with your mother.
Or if you've read the previous books in this series, you could probably fill in the same blanks with Mother Mary stories.
But no spoilers.
So don't tell anyone about the time Mother Mary refused to use the discount Batman bedsheets because she didn't want a life-size Batman laying on top of her.
Or the time she took to wearing a lab coat because it gave her an air of authority, plus pockets for her cell phone and back scratcher.
Or the time she grabbed her doctor's butt to prove that she was ready for cardiac rehab.
Nobody would believe those stories, anyway.
So, to stay on point about the Time magazine article, the first thing that your children are alleged to remember about you is "the times you made them feel safe."
Awww.
How sweet.
Except that with Mother Mary, what I remember are the times she made me feel unsafe.
Because those were truly memorable.
And my general safety was a given, if less dramatic.
For example, when Brother Frank and I were little, we used to fight, which drove my mother crazy. I remember, one day, she yelled at us to stop fighting and we ignored her, so that she took off her shoe and threw it at us.
She missed, but that didn't stop her.
Because she had another foot with another shoe.
So she took that shoe off and threw it at us, but she missed with that one, too.
We stopped fighting.
You're probably thinking that she missed us intentionally, and I'll let you think that, but you didn't know Mother Mary. She loved us in a fiercely Italian-American sort of way, which meant that motherhood and minor personal injury weren't mutually exclusive.
So lighten up, Time.
The second thing in the article was that your children will supposedly remember "the times you gave them your undivided attention," and the magazine advised parents to "stop what you're doing to have a tea party" with your kids.
Again, growing up, I had no doubt that I had my mother's attention, but it was never undivided and she wasn't into tea parties.
But she chain-smoked.
Does that count?
Mother Mary was a real mom, busy doing laundry, cooking dinner, and cleaning the house, and though she was always available, she wasn't staring deeply into our blue eyes. But every night, the Flying Scottolines would sit on the couch and watch TV, giving it our undivided attention.
We all loved TV, so by the property of association, we all loved each other.
Good enough for me.
The third thing was, your kids will remember "the way you interacted with your children's spouse."
This doesn't apply to The Flying Scottolines, since the statement assumes that the parents interacted.
You can't win them all.
My parents barely talked to each other, but at least they never fought and nobody was surprised when they divorced. But happily, they both loved us to the marrow, and my brother and I knew that.
What I learned from growing up in a house with an unhappy marriage is that divorce is better.
And so I'm divorced twice.
Which I think is the good news, considering the alternative.
If I can't have a happy marriage, I'll have a happy house.
The fourth factor was, you kids will remember "your words of affirmation and your words of criticism."
I don't know if Italian-American families have things that can be characterized as words of affirmation, except "I love you."
And as a child, I heard that at least ten times a day.
But I also heard, "Don't be so fresh."
So I grew up thinking that I was lovable and fresh, which might be true.
The last thing in the article was that children would remember "family traditions," like vacation spots and/or game nights.
The Scottolines weren't the kind to have "game nights," but every summer, we did go on vacation to the same brick rowhouse in Atlantic City, New Jersey. All day long, we played on the beach while my parents smoked, and at night we sat on the front porch while assorted relatives dropped by and the adults talked, drank beer, and smoked into the night. When the mosquitoes got too bad, we all trundled inside the house, where the adults played pinochle until my brother and I fell asleep on the couch, to the sound of their gossiping and laughter, breathing in the smoke from their Pall Malls and unfiltered Camels.
We had no oxygen, but a lot of love.
And it wasn't Norman Rockwell.
But it was perfect.
Looking back, I wouldn't change a moment.
Thanks, Mom and Dad.
I love you.
And I'm still fresh.
Copyright Lisa Scottoline