By Lisa Scottoline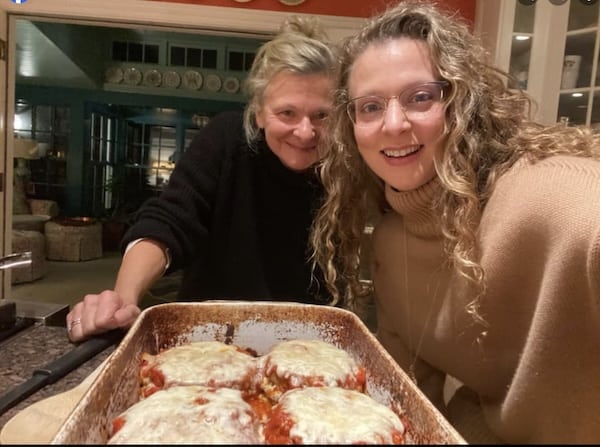 Turns out you're never too old to call your mother about a recipe. 
And regret it.
We begin when I decide to cook a nice meal for Daughter Francesca, because we're about to start book tour, where we'll eat MacDonald's French fries for dinner and pretend that it's a hardship.
We eat French fries for dinner every book tour, and it's worth writing an entire book for an excuse to eat French fries.
But if I eat French fries without being on book tour, I start signing things.
Occupational hazard.
To stay on point, I decide to make eggplant parm, which I haven't made in years. Mother Mary, as you can guess, is the Queen of Eggplant Parm, and she has the best recipe ever. When was in my twenties, I used to call her about her recipes because I'd never made the dish. But now, in my fifties, I have to call her because I can't remember if I made the dish, or where my keys are, or what year it is.
I actually forgot that, yesterday.
At least I think it was yesterday.
Back then, in my twenties, my big question was whether you had to preheat the oven.
Mother Mary always said yes.
So I did, but now I learned that the answer is no.
Preheating the oven is as big a lie as the check is in the mail.
Believe me. Take risks. Don't preheat.
Anyway, I couldn't remember the order of business for breading the eggplant slices, whether it was egg, flour, and bread crumbs, or flour, egg, then bread crumbs. I know it seems obvious, but when I breaded a slice in the logical order – egg, flour, bread crumbs – the eggplant's surface cratered like bad skin.
So I called Mother Mary for the recipe, but before I could ask her my question, she asked me hers: "Did you preheat the oven?"
I paused. "No."
"You have to."
"I will," I lie.
"Don't lie. Do it now."
"Ma, I haven't even made the eggplant yet. If I preheat the oven from now, I'll use up enough energy to bake Earth. So tell me, what's the order?"
"Wait. The oven has to be 350 degrees. No more, no less."
"Got it. Now, Ma−"
"Also you have to peel the skin off, did you do that?"
"No. I read that it has vitamins." Also I'm too lazy.
"Wrong! Peel it!"
"Okay, I will," I lie again. "Now, Ma –"
"Did you leave the eggplant slices out overnight, to let the water leak out?"
I fall silent, trying to decide whether to lie a third time.
"You have to do it the night before. You put salt on the slices, lay them flat between two plates, and put your iron on top of the plate, to weigh it down."
I'm still trying to decide how to respond. I remember growing up, I used to wonder about the eggplant slices between two plates, sitting on the counter all night. By the next morning, about half a teaspoon of eggplant water had dripped into the sink.
Like it matters.
So, of course I didn't take anything out the night before. I never make a recipe that requires taking anything out the night before. I never think that far behind.
Also, I don't own an iron.
Other than that, I followed her recipe exactly.
Mother Mary asks, "Well, did you drain them last night?"
"Yes," I lie. Third time's a charm.
"You didn't, I can tell," Mother Mary says firmly. "Salt the slices, drain them, and make the parm tomorrow night."
"Ma, tomorrow night I'll be at a book signing." By the way, I could remind her that the book in question, Meet Me At Emotional Baggage Claim, is almost entirely stories like this one, about her, but I'm sensing the irony might be lost.
Mother Mary raises her voice, agitated. "Then make the parm the next night."
"Ma, I have to make it tonight. So what's the order –"
"YOU CAN'T MAKE THE PARM IF YOU DIDN'T DRAIN THE EGGPLANT!"
So, you know where this is going. Shouting and fighting, ending in false promises, heavy guilt, and mediocre eggplant parm.
In other words, dinner, Scottoline-style!
© Lisa Scottoline